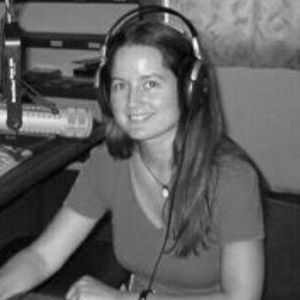 Naomi Fowler ■ Continuing the work of murdered journalist #DaphneCaruanaGalizia, 6 months on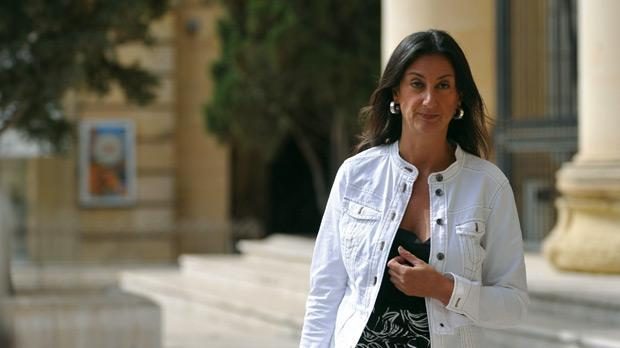 The Daphne Project: 45 journalists from 18 news organisations spent five months poring over hundreds of thousands of documents to continue my mother's work. Publication and broadcast starts Tuesday. #DaphneCaruanaGalizia https://t.co/5h3aOLAol9 pic.twitter.com/2Ezkiv6XrL

— Andrew Caruana Galizia (@acaruanagalizia) April 15, 2018
Maltese citizens have fought a campaign demanding justice for those involved in her murder and have expressed little faith in the Maltese authorities to investigate properly. There are vigils being held around the world demanding justice and restoration of the rule of law in Malta. These were some of the scenes this week in Malta:
#HappeningNow: Large crowds gather outside #Malta law courts in #Valletta to mark 6 months since the assassination of journalist #DaphneCaruanaGalizia #EndImpunity pic.twitter.com/H4o2kbh1iz

— Roberta Metsola MEP (@RobertaMetsola) April 16, 2018
Maria Efimova, an employee of Pilatus Bank and one of Daphne Caruana Galizia's sources for a huge scandal, recently fled Malta for Greece, has been the subject of smears and fears for her life. Malta failed to grant her whistleblower status and an Athens court ruled that she shouldn't be extradited to Malta because there was "no guarantee she would be granted a fair trial and granted protection."
She's recently joined twitter and is making sure her voice is heard – please do follow her if you use twitter to show your support:
https://twitter.com/MariaEfimova7/status/984938776807006209
There's a very helpful article here on Pilatus Bank and here (yes, there's a Cambridge Analytica angle in Malta as well) but to give you an idea of how bad things look for Malta as a secrecy jurisdiction, Pilatus Bank's chairman Ali Sadr Hasheminejad was arrested in the United States recently on charges relating to illegally funnelling more than $115 million from Venezuela to Iranian-controlled companies using US and Swiss banks. According to the indictment by the US Department of Justice, Sadr made use of a St Kitts and Nevis passport (coincidentially, Malta does a roaring trade in passports, too!) and he's accused of establishing a network of companies in Switzerland, Turkey and the British Virgin Islands to hide the involvement of Iran in the transactions, thus dodging US sanctions on his home country. The European Banking Authority launched an inquiry into Pilatus Bank and will be investigating whether its licence should be revoked and whether the Malta Financial Services Authority is fit to do its job properly free from conflicts of interest. Members of the European Parliament have expressed their concern that
in the absence of proper regulation Pilatus Bank has been free to pursue investigative journalists and whistleblowers with the full force of the law."
And,
There is a growing body of leaked evidence from Maltese authorities and first-hand testimony that place Pilatus Bank at the centre of illicit financial flows from Malta's citizenship-by-investment scheme, the sale of state assets, and unexplained inflows from high-risk jurisdictions like Azerbaijan to Maltese politically exposed figures."
Protesters in Malta placed a washing machine outside Pilatus Bank, clearly trying to highlight what they believe to be its role in money laundering.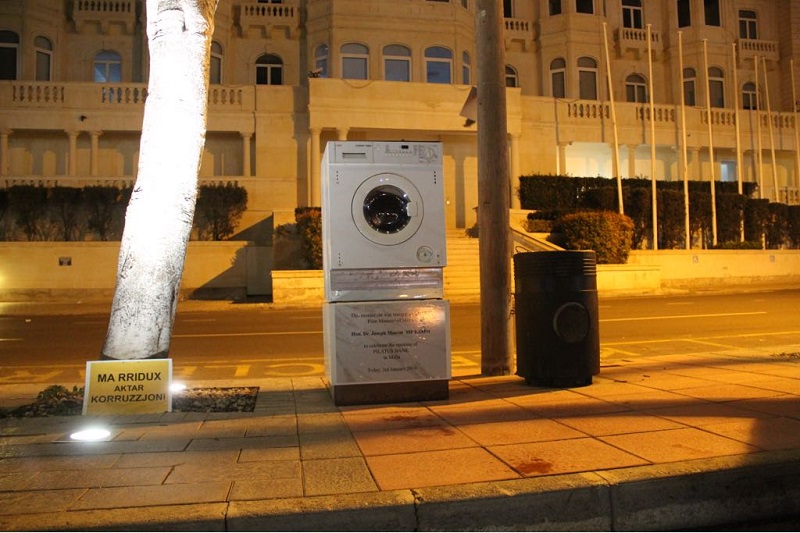 Here's a summary of the Daphne Project from the Organized Crime and Corruption Reporting Project:
Six months ago, Maltese journalist Daphne Caruana Galizia was brutally killed by a car bomb just meters from her home. The investigation into her killing is ongoing, but there is little doubt that she was murdered because of her work. With a brazen, unapologetic and uncompromising style, she denounced corruption, nepotism, clientelism, and all kinds of criminal behaviors in her tiny EU member state.

A group of 45 journalists representing 18 news organizations from 15 countries picked up Daphne's work after it was abruptly halted by her gruesome death on the doorstep of Europe. For five months they kept digging — poring over her findings, gathering documents, talking to sources — to try to get to the bottom of the many leads the formidable woman left behind.

The Daphne Project was coordinated and led by Forbidden Stories, a Paris-based organization established specifically to continue the work of killed, imprisoned, or otherwise incapacitated journalists.

The Organized Crime and Corruption Reporting Project (OCCRP) facilitated the sharing of documents and information across the participating organizations and assigned researchers and reporters to investigate the many allegations about wrongdoing among Malta's elite.

The sun was shining on the day assassins took Daphne's life. Now her colleagues will shine many lights onto the stories that killed her.

On April 17, we will start revealing what Daphne left behind. Watch this space.
And here's the Forbidden Stories website.