2003
Tax Justice Network is launched
TJN was officially launched in the British Houses of Parliament in March 2003: the crucial trio of Pat Lucas, Jean Andersson and Frank Norman were all there.
At first, it was hard going. Clearly the new network would need a secretariat, but such was the apparent obscurity of the tax haven issue in those days that none of the founding organisations was able to put up a sizeable contribution to fund it.
Then good old Jersey intervened again. The Attac network there set to work organising boot fairs, local events and more to cobble together enough many thousands of pounds to get things started. We still don't know just how they did it – but they did. And at that point, things began to get a little easier.
2004
The following years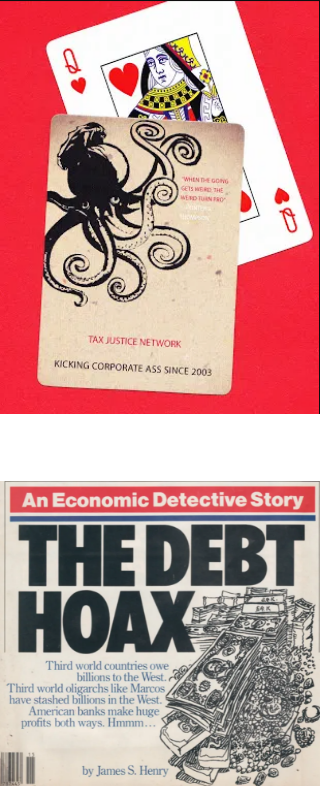 The Tax Justice Network formally launched its International Secretariat in September 2004, garnering its first major international newspaper headline, in The Guardian: Havens that have become a tax on the world's poor, with some useful supportive commentary from UN Secretary-General Kofi Annan.
Yet it was still hard to get people interested. John Christensen and the highly energetic and effective Sony Kapoor (now head of the think tank Re-Define) visited innumerable international conferences and events, while Sikka, Murphy and others beavered away with research. All talked to anyone who would listen – which, in those days, wasn't that many.
From around 2004 onwards, bit by bit, the issue slowly began to get traction, notably with non-governmental organisations, but increasingly with unions and then professional bodies. Still, even natural allies took quite some persuading: Sikka remembers visiting one trade union body in 2003-4, and finding that "they were simply not interested, because it was a little bit outside the box of traditional trade union interest."
2005
The next steps
The world, slowly, began to wake up to the perils of tax havens, and the solutions. And we continued to push novel ideas, then encouraging others to run with them. One, following a shoestring TJN mapping exercise in Africa in 2005 and 2006, emerged from TJN to become Tax Inspectors Without Borders (TIWB) whose job is to help poorly-resourced tax authorities with under-trained staff in low-income countries deal with multinationals, which can field armies of highly paid lawyers and accountants — not to mention dollops of well-aimed political financing, and worse — to get the tax results they need.
At a meeting in Nairobi in 2007 we set up Tax Justice For Africa, and also started implemented the idea to set up a Financial Secrecy Index (FSI) to identify the most important recipients of looted money. The idea, as outlined in 2007, was to create an antidote to widespread corruption rankings (such as Transparency International's Corruption Perceptions Index) which pointed identified poor (mostly African) countries as the 'most corrupt' — while ignoring those rich-world countries that were welcoming all the stolen and illicit loot and shrouding it in secrecy. The first FSI was launched in 2009. Two years later, the launch of Nicholas Shaxson's book Treasure Islands helped push tax havens into the mainstream media (a film based loosely on the book was viewed a million times within a couple of weeks of release.)
After just a few hours of discussion, clandestinely in a bar in Saint Helier, he had convinced me that the time was ripe to move on and start to campaign against tax havens.
One of the great strengths of TJN, beyond the fact that it is and has been proven absolutely right about the issues, is that has striven to appeal across the political spectrum, from left to right. The problem of tax havens is, after all, a story about the corruption of global markets – and who is to say that the fight against corruption is the exclusive preserve of left or right?
"As we sat in John's office he asked us "What do you want to do?" And if I remember rightly Pat answered; "Get rid of the Tax Haven!"
The story of the years that followed these beginnings become increasingly complex, as more and more organisations join the tax justice movement, as TJN grows in strength and number, and as it takes on a broader range of issues.
The Tax Justice blog has been instrumental in helping lay out the broad outlines of what we sometimes call the Tax Justice Consensus, which TJN has found to be a powerful and internally coherent framework for understanding the world, which ranges far beyond the somewhat technical world of international tax cooperation treaties.
A number of influential books and reports have emerged from TJN. The most comprehensive single account of tax havens and the tax justice consensus remains Nicholas Shaxson's acclaimed Treasure Islands; our daily blog is complemented by our flagship newsletter Tax Justice Focus; by Richard Murphy's prolific and widely read Tax Research UK blog (which is separate from TJN); alongside a range of reports such as the Price of Offshore (March 2005, updated in July 2012) and 'Tax Us If You Can' (September 2005, updated in July 2012.)
Our fast and flexible operating model allows us to push continuously into new areas and add to this ever-expanding body of work: for instance the Finance Curse; an emerging focus on Tax Justice and Human Rights; and a new, more explicit focus on the 'competitiveness' of nations and the race to the bottom between them.
Today
The Tax Justice Network believes our tax and financial systems are our most powerful tools for creating a just society that gives equal weight to the needs of everyone. But under pressure from corporate giants and the super-rich, our governments have programmed these systems to prioritise the wealthiest over everybody else, wiring financial secrecy and tax havens into the core of our global economy. This fuels inequality, fosters corruption and undermines democracy. We work to repair these injustices by inspiring and equipping people and governments to reprogramme their tax and financial systems.