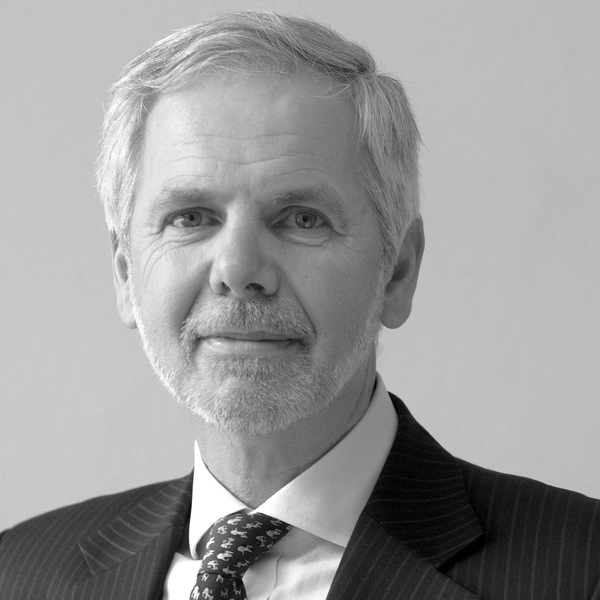 John Christensen ■ 2016 Tax Justice and Human Rights Essay Competition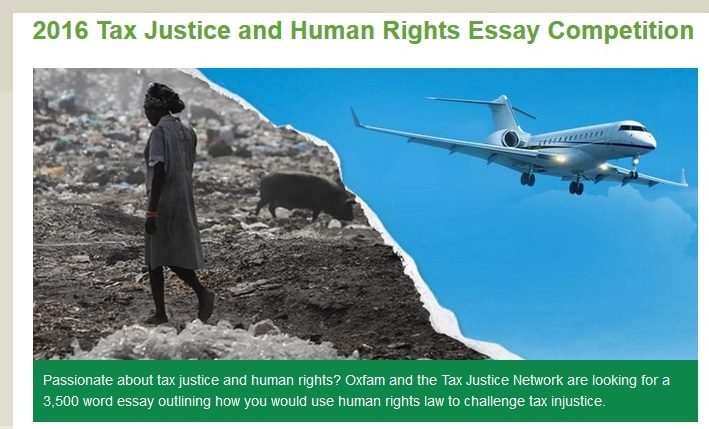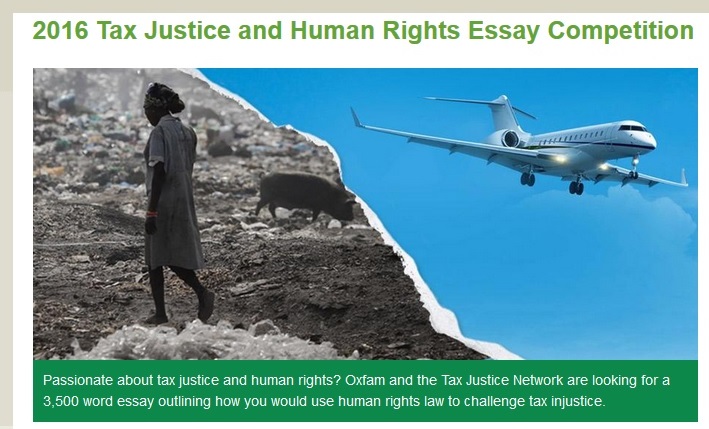 Tax Justice Network and Oxfam are joining together to launch a tax justice and human rights essay competition for legal students and professionals. With tax justice rising up the human rights agenda, we want to hear your ideas on how human rights law can be used in the fight against tax dodging.
Tax justice is a human rights issue
International tax dodging by multinational corporations and wealthy elites costs countries both rich and poor billions of dollars a year in lost revenues. This is undermining vital public services where they are most needed and further driving inequality at a time when the richest 62 people in the world have as much wealth as half the world's population. Overall, substantial damage is done to human rights through the use of tax havens, the opacity of corporate accounting, the manipulation of trade prices and the disguising of beneficial ownership. But national and international fora may provide scope for redress.
What we want
We're inviting 3,500-word complaints to identify the plaintiffs, defendants, remedies sought, and arguments that are considered enforceable in an existing legal forum. We seek complaints that could form the basis of effective advice to developing countries, or to groups of citizens in countries at any income level who have suffered, and want to know how they could best use law to protect their or their people's human rights in the face of tax injustice.
Examples of unjust tax behaviours:
A tax haven facilitates systematic mispricing of commodity trade to allow extractive sector multinationals to strip profits from a developing country;
An accounting firm markets a profit-shifting mechanism that enables massive corporate tax avoidance, with demonstrable revenue impact in an OECD country where austerity measures are worsening health of the poorest;
A state provides anonymous company ownership which is central to grand corruption in a different country.
Competition details
The competition launched on Tuesday 26th January, and will be judged by a panel of eminent lawyers chaired by Magdalena Sepúlveda Carmona, a Senior Research Fellow at the United Nations Research Institute for Social Development (UNRISD) who from 2008 to 2014 was the United Nations Special Rapporteur on Extreme Poverty and Human Rights.
The winners will be announced in March 2016, and invited to present their work at the Tax Justice Network's annual research workshop held at City University, London, on 28-29 April 2016, which this year takes the theme 'Corruption and Tax Havens'.
There are two categories:
Practitioner
Current student
For the best submissions in each category, the organisers will cover economy class travel to London for the research workshop (subject to a visa being obtained) , and also award a £100 book voucher. Winning submissions, and other commended entries, will be translated and published on our websites. Submitted proposals will be considered for active litigation.
Submissions will be accepted in English, French and Spanish.
The deadline for submissions is 13th March 2016.
How to take part
Please send your submissions, along with a brief summary of your case, to [email protected] by 13th March 2016. Please indicate in the subject line whether your essay is for the 'practitioner' or 'student' category.
If you have any further questions please contact us at [email protected]
Good luck!
P.S. More information about terms and conditions here