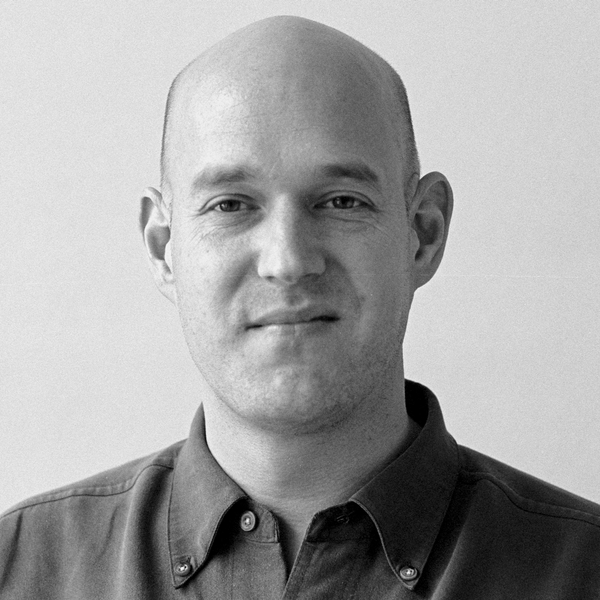 Markus Meinzer ■ Financial Secrecy Index 2018 – Launch Date January, 30th
We are pleased to announce our final launch date for the next Financial Secrecy Index (FSI). The launch will take place on 30 January 2018 at 18.00 CET.
This next FSI will be covering 112 jurisdictions up from 92 in 2015. We have substantially increased the number of Key Financial Secrecy Indicators to 20 (from 15) and implemented many changes that have been suggested during our stakeholder survey in 2016. Many of the indicators are either exploring new uncharted waters (e.g. comparative freeport and public real estate registry research) or drilling deeper into existing indicators. This will be our most comprehensive FSI, and a more rigorous assessment of financial secrecy than any that has been completed so far by academic or regulatory institutions.
In particular, our analysis on the registration and publication of beneficial ownership of companies, trusts, foundations and partnerships has been deepened, taking on board the lessons learned through various leaks, and chiefly among them, the Panama Papers. Without strict public disclosure rules for anybody holding stakes in any company, the fight over accountability and the rule of law for all segments of society – including the rich and powerful – is going to be lost. Accordingly, we have demanded full registration and publication of every natural person having control over any single share in any company (see our reports "Drilling down to the real owners, part 1 and part 2). And we have hardwired this criterion in our company ownership indicator (see table below).
It is all the more heartening to see that these tough new standards are already picked up by policy makers. Today, the European Parliament will debate the draft recommendations of the PANA committee before they are voted upon tomorrow. Paragraph 84 of the draft recommendations reads:
"The European Parliament […] Calls for an identification of beneficial ownership that includes all natural persons who  ultimately own or control a legal entity, other than a company listed on a regulated market that is subject to disclosure requirements consistent with Union law or subject to equivalent international standards which ensure adequate transparency of ownership information, through direct or indirect ownership of at least one share or equivalent minimum unit of interest in that entity, including through bearer shareholdings, or through control via other means; [emphasis added]"
This is fully in line with our "Drilling down to the real owners" series, and with our new FSI methodology around company ownership registration (KFSI 3). The assessment matrix for KFSI 3 is shown in table 3 below.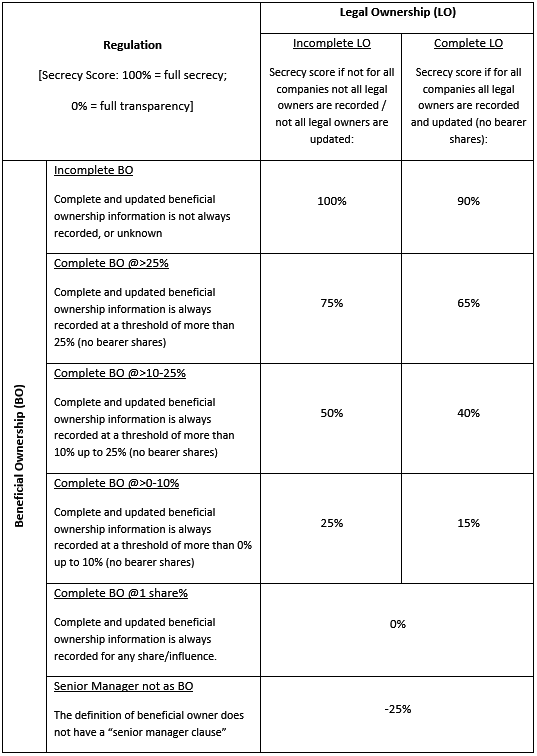 The next table below provides an overview of the new 20 KFSIs.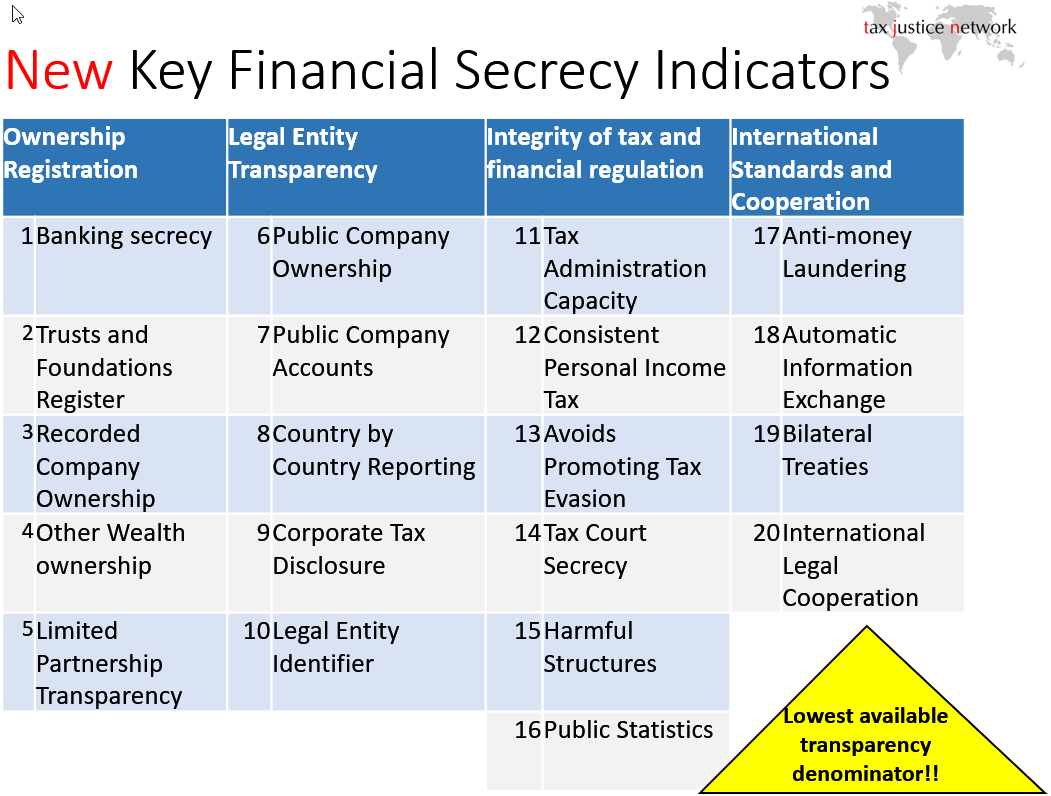 If you are interested to partner in the launch of the FSI, please get in touch with [email protected] no later than 20 December 2018.
Watch this space!