TJN Admin ■ Highlights of TJN's 2016 Annual Report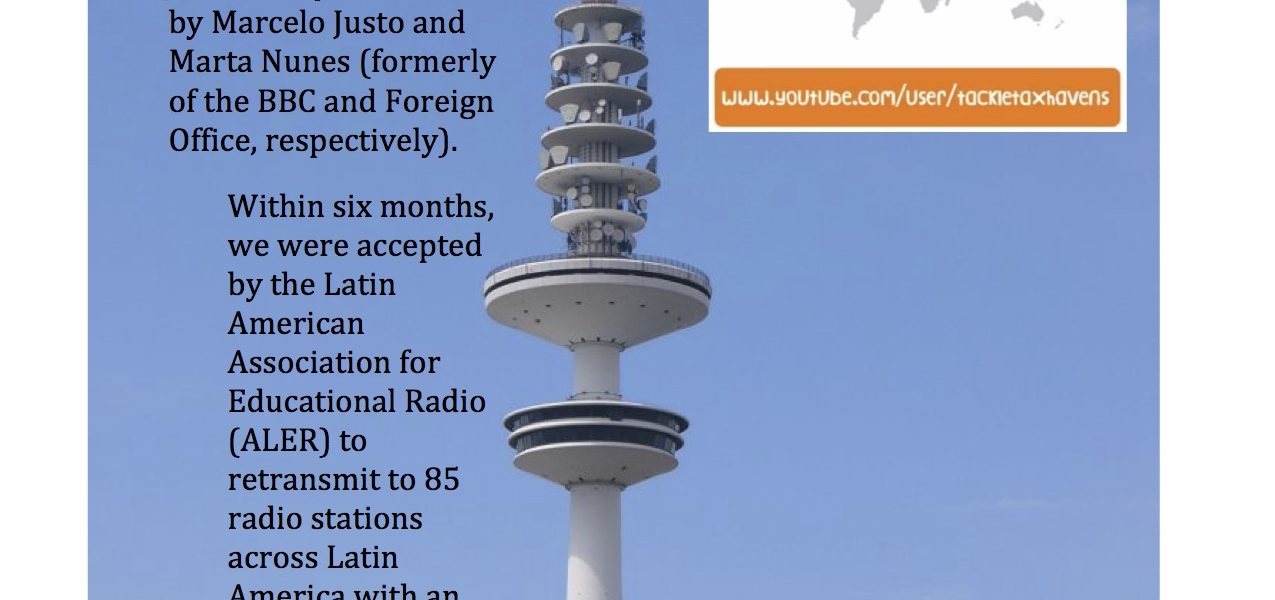 Tax Justice Network's (TJN) 2016 Annual Report and audited accounts are available to view here. More than any other year they record a year of extraordinary achievement and an significant moment of transition as John Christensen, TJN's founding director, steps into a new research role and hands on the Chief Executive baton. In enthusiastically welcoming Alex Cobham to the role of Chief Executive, the Board and staff acknowledge an incredible legacy developed under John's leadership; the development of the ABC of tax transparency, the key elements of the policy platform laid out during 2003-05 have moved from the utopian fringes to the centre of the global policy agenda: –
Automatic exchange of tax information has become the global standard in the fight against tax evasion, displacing its dysfunctional predecessor of information exchange 'upon request'. More than 100 countries are now signed to exchange automatically from 2017 onwards.
Beneficial ownership transparency, through public registers, is also increasingly emerging as the new standard to combat tax evasion and a host of other corrupt activities. While many secrecy jurisdictions remain resistant, there are now powerful commitments from EU and EITI members, creating important global momentum.
Country-by-country reporting for multinationals is an original Tax Justice Network proposal to ensure full public accountability for the profit shifting that underpins tax avoidance, and for the jurisdictions that actively procure it. First put forward as an international accounting standard by Prof. Richard Murphy in collaboration with TJN country-by-country reporting has now become an OECD standard with global reach – leaving the crucial, final step of the data being made fully public.
Perhaps even more importantly, under John's leadership TJN has played a role in shifting some of the most damaging narratives about tax – not least, the ideas that tax dodging is smart (rather than anti-social in the purest sense); that corruption is a problem of low-income countries alone (and not of financial centres or the secrecy services they sell); and that there can be more winners than losers from the race to the bottom on tax and financial regulation. – 3 – This 'weather-changing' role is the key to achieving systemic change: progress that goes beyond individual policy prescriptions, to a deeper shift in beliefs and assumptions that will in turn underpin more broadly progressive outcomes.
You can take a deeper dive into the report, but here our just a few important tipping points from 2016:
Justicia Impositiva: With our regular podcast and radio broadcast, the Taxcast, entering its fifth year, in July 2016 we launched a Spanish language equivalent, Justicia Impositiva, run by Marcelo Justo and Marta Nunes (formerly of the BBC and Foreign Office, respectively). Within six months, we were accepted by the Latin American Association for Educational Radio (ALER) to retransmit to 85 radio stations across Latin America with an estimated audience of one million listeners.
Stubbing out Big Tobacco: Tax Justice Network coordinated a global campaign of development and health groups against the tobacco companies' key lobbying body, the International Tax and Investment Center (ITIC). Global media coverage of our campaign culminated in a decision by the other multinational company members to kick the tobacco companies out of ITIC.
Finance Uncovered successful moving out in its own: A crucial element of TJN's approach has been to develop world-class training courses, and to invest in building and maintaining the resulting global network of journalists. This led to the creation of Finance Uncovered which at the end of 2016 became an independent investigative journalism organisation.
And finally,
Lord Joffe, 1932-2017 As this report was being prepared, we heard the sad news that Lord (Joel) Joffe had passed away. As well as famously having represented Nelson Mandela, Joel could count an extraordinary number of achievements in pushing for radical change in various settings. We at TJN are extremely grateful for the advice and support of Joel and the Joffe Trust over many years, which played a pivotal role in our development.