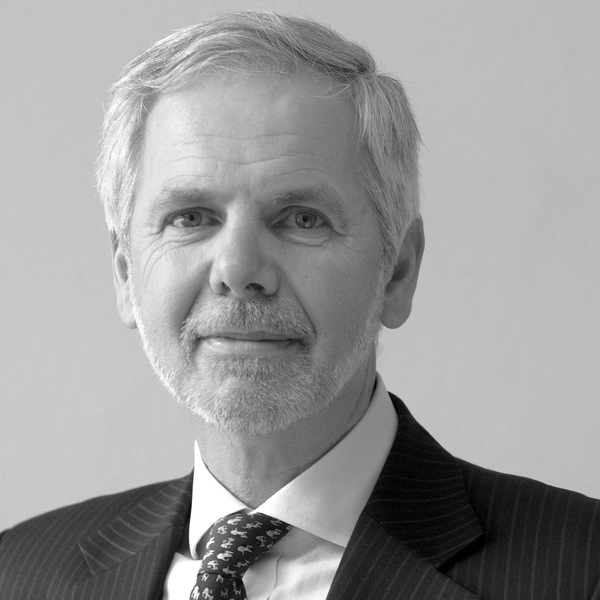 John Christensen ■ Energy giant SSE awarded Fair Tax Mark for tax transparency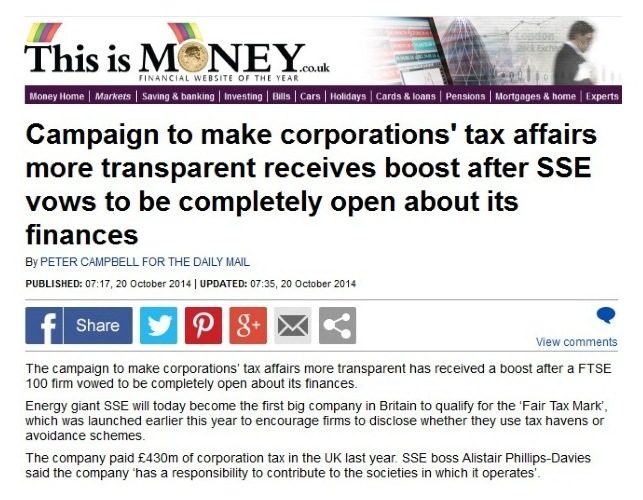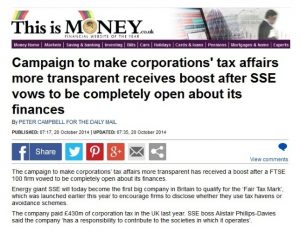 British newspapers are today reporting a major step forward for the First Tax Mark, with energy giant SSE – the UK's second larget energy supplier – becoming the first FTSE 100 company to be awarded the Fair Tax Mark.  Based on the pioneering work of chartered accountant Richard Murphy and his team, who were supported by TJN in the development phase of their work, the first Fair Tax Mark certification of a FTSE 100 company creates a new era for fairer tax in the UK which means that more consumers can now choose to support an organisation that pursues responsible tax behaviour.
Launched in February 2014, the Fair Tax Mark is the world's first independent accreditation process for identifying companies making a genuine effort to be open and transparent about their tax affairs.
Alistair Phillips-Davies, Chief Executive of SSE, said:
"As a provider of an essential service SSE firmly believes it has a responsibility to contribute to the societies in which it operates. Paying the appropriate amount of tax is core to this; and we are determined to abide by both the spirit and letter of the UK's tax regulations.

Almost nine million SSE customers now have an independent guarantee that their energy comes from a company that seeks to pay the right amount of corporation tax, at the right time, in the right place and explains how it does that.

Today we're proud to lead the way and be recognised as the first FTSE 100 company to be awarded the Fair Tax Mark. It is one of several actions SSE is taking to make a difference which includes being the first and only energy company to be a Living Wage employer.

Furthermore SSE has set a new benchmark for transparency and disclosure in the reporting of the tax affairs of a large UK company with international operations."
Richard Murphy, Director of the Fair Tax Mark, said: "Today is a major breakthrough for the campaign for responsible tax behaviour with the award of the Fair Tax Mark to SSE plc. As was the case with Fairtrade and other successful ethical standards, we anticipate that the accreditation of a major FTSE 100 company will prove to be a game-changer for the reporting of responsible tax planning in the UK."
"Corporation tax avoidance costs the UK economy billions a year – money that is needed to support vital health, education and social security services in this country."

"The award of the Fair Tax Mark to SSE is especially welcome given that the company has significantly enhanced the tax disclosure notes within its Financial Statements, and has as a result established new benchmarks for corporate disclosure. It has set a standard that other UK based companies, including multinationals, now need to match."
Margaret Hodge MP, Chair of the Public Accounts Committee, said she hoped other companies would follow SSE's example:
"I welcome SSE's commitment to being open and honest about its tax affairs. Too often companies hide behind commercial confidentiality to disguise their activities, claiming that transparency about their tax affairs would damage their competitiveness. I don't buy that, and the public don't buy that.

"SSE clearly feels it has nothing to fear – and potentially a lot to gain – from responding to public demands for greater openness. There is no excuse for other companies not to do the same, and make this new standard in transparency the norm, not the exception.

"This kind of information will enable we the public not only to see how much tax SSE is paying, but to make a meaningful assessment of whether this constitutes a fair and appropriate amount of tax relative to the profits it is making in the countries where it operates."
In changing its tax reporting to comply with the Fair Tax Mark criteria SSE plc is providing information that moves its disclosure well beyond the current requirements of UK company law to ensure that it provides all its stakeholders with the information they need to properly appraise its tax affairs.
ENDNOTES
About Fair Tax Mark
1. Fair Tax Mark Limited is a community benefit society. It was launched in February 2014 as a joint venture between the Ethical Consumer Research Association, Tax Research UK and Up the Ethics. Its work is supported by private and business shareholders.
2. The first recipients of the Fair Tax Mark (February 2014) were its Pioneers: Unity Trust Bank, Midcounties Co-operative and the Phone Co-op. The Fair Tax Mark was awarded to FTSE 350 member the Go-Ahead Group in September 2014. SSE Group plc is the first FTSE 100 company to be awarded the Fair Tax Mark.
3. The Fair Tax Mark is awarded following a review of the company's reporting and focuses on both the content and clarity of the policy and taxation statements a company makes, as well as on the actual amount of tax paid.
4. A high-quality copy of the Fair Tax Mark logo is available upon request.
5. For more information visit the Fair Tax Mark Website: www.fairtaxmark.net
About SSE
SSE plc is one of the UK's leading energy companies, involved in the generation, distribution and supply of electricity and in the extraction, storage, distribution and supply of gas. Its core purpose is to provide the energy people need in a reliable and sustainable way. It supplies energy to around 9.46 million energy and home services customers throughout Great Britain and Ireland, is frequently ranked number one for customer service and is the UK's leading generator of electricity from renewable sources.
SSE paid £430m of business taxes in 2013/14. SSE is also taking bold steps to address the issues facing the energy industry. It is the only UK supplier to freeze standard energy prices until 2016, and every year contributes around £9 billion to the UK economy.