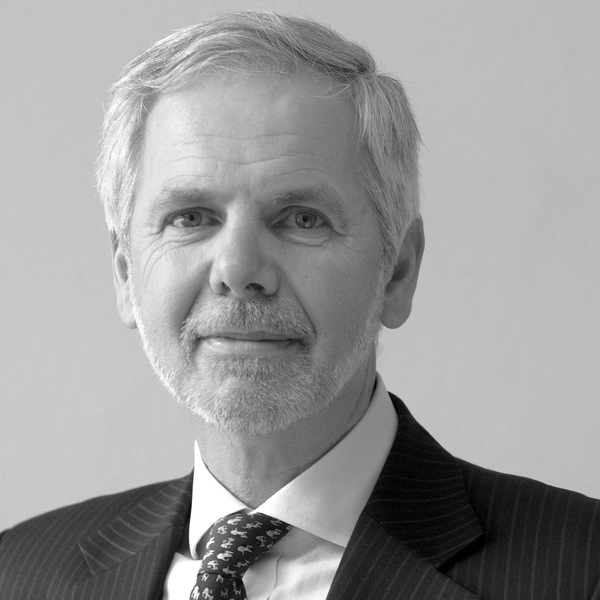 John Christensen ■ Register here for TJN's annual discussion workshop at City University, London, 25th-26th June 2015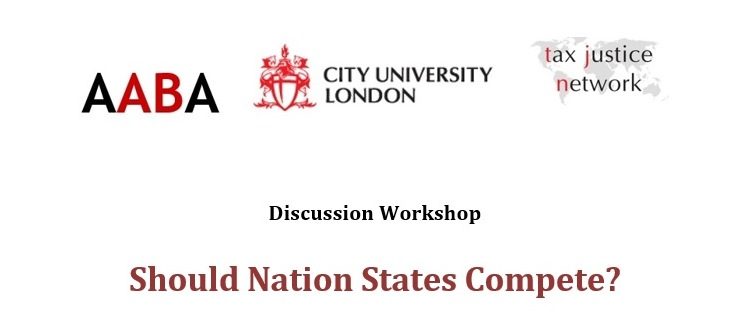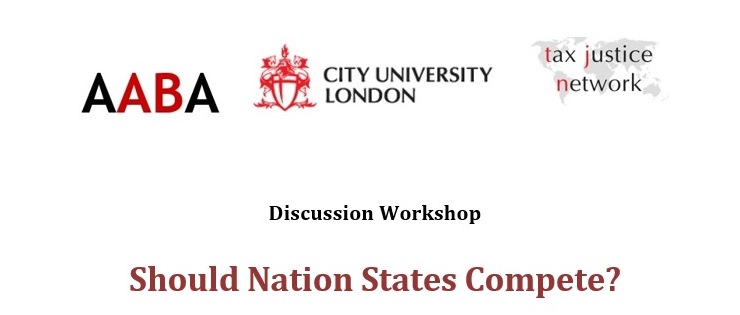 You can register here to attend TJN's annual discussion workshop, held in association with the Association for Accountancy & Business Affairs and City University, London, which will be held on 25th-26th June 2015.
The workshop theme is Should Nation States Compete?  The outline programme is published below (it may be subject to alteration).  A fuller programme including paper abstracts is available here.
PROGRAMME
DAY ONE – 25th June 2015
10h00 – 10h30 Registration and coffee
10h30 – 11h00 Welcome and introductions
11h00 – 12h30 Session One
Facilitator – David Quentin
Discussant – Anastasia Nesvetailova
Matthew Watson – Ricardian Myth-Making: Comparative Advantage Theory as Ideologically Selective Historical Reconstruction
Atul Shah – Systemic Regulatory Arbitrage: the Role of KPMG
Isabel Estevez – A Minimum Cooperation Consensus for a South American Fordian Pact
12h30 – 13h30 Lunch
13h30 – 15h00 Session Two
Facilitator – Naomi Fowler
Discussant – Duncan Wigan
Filomeno III Sta Ana – Questioning Fiscal Incentives as a Policy Instrument for Competitiveness: The Case of Southeast Asia
Darian Heim – Justice, Migration, and the Competition for Talent
Ali Saqer – International Competitiveness and Economic Resilience: from Social Welfare to Corporate Welfare
15h00 – 15h30 Tea break
15h30 – 17h00 Session Three
Facilitator – Krishen Mehta
Discussant – Jim Henry
Juliette Schwak – South Korean Nation Branding and the Building of a Competitiveness Society
Jakob Engel – Regulating the Commodity Trading Industry: Comparing firm strategies to evade stricter regulation at three levels of governance
Linda Arch – Competition amongst the London Clearing Banks, 1946 to 1979
17h30 – 20h00 Film Screening
Screening of Harold Crook's award-winning film documentary The Price We Pay, followed by panel discussion with Nick Shaxson, Jim Henry, moderated by Ronen Palan
20h00 Dinner at BananaTree
DAY TWO – 26th June 2015
09h30 – 11h00 Session Four
Facilitator – Liz Nelson
Discussant – Prem Sikka
Michael Tyrala – The Changing Role of the USA in the Regulation of the Offshore Economy
Duncan Wigan – The Finance Curse and Competition through Finance
Anastasia Nesvetailova – The Offshore Nexus, Sanctions Busting and the Russian Crisis

11h00 – 11h30 Coffee / tea break
11h30 – 13h00 Session Five
Facilitator – Alex Cobham
Discussant – Richard Murphy
Hagai Kalai– Back to Source: From international corporate tax neutrality to efficient investment policy and its implication for a desirable international tax policy
Matti Ylönen – Politics of Intra-Firm Trade: Corporate Price Planning and the Double Role of the Arm's Length Principle
Diarmid O'Sullivan – Curbing tax competition: how can we get to a global consensus?
13h00 – 14h00 Lunch
14h00 – 15h30 Panel Discussion – The 'Competitiveness' Conundrum
Moderator – Naomi Fowler
Discussants – Will Davies, Ronen Palan, Matthew Watson
15h30 Workshop ends
Register here.